Against all odds
A tragedy for young Martha did nothing to dampen her spirits for academic achievement.
Published on
Losing her arm in a traumatic car accident could have been catastrophic for young Martha from Zambia. She spent a year in hospital before adjusting to day-to-day life with just one hand, even re-learning how to write.
However, far from being left behind by her peers, Martha was determined to put her sharp mind to work and excel at school. She skipped the grades she missed during her recovery and slotted easily back into the correct class for her age group, supported by Mary's Meals each day.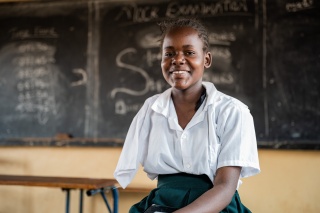 She quickly outperformed her friends and has been awarded the accolade of best performing pupil in the school, three years running.
Now age 13, Martha's academic success has earned her a place at a prestigious boarding school, which gives her a route to a well-paid career. Unfortunately, the school fees are beyond her family's means.
Martha's proud mum Josephine says: "I'm very happy with Martha's performance. But I have challenges in meeting her school needs. The people who were helping us died so I couldn't pay for the house we were in.
"For Martha to go to the village she won't be able to survive and support her children. That's why I intend to stay in town so that Martha attends her education. That's why I took my job as a maid.
It's very difficult to meet our daily needs. Sometimes we have food, sometimes we sleep without having a meal. The porridge at school is really helping me because at least if we have to skip breakfast and lunch, I have confidence they will have something to eat at school.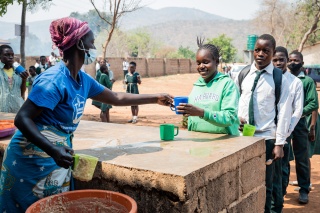 Martha's teacher Mr Mwaba agrees: "The food Martha receives at school is going a very long way in assisting her in terms of nutrition and in terms of energy levels in class. You will see her rush to get porridge, her energy levels activated, and she will go up to 3.30pm without any complaint. I see a very good future for her. She's quite brilliant in class.
Martha has proved that disability is not inability.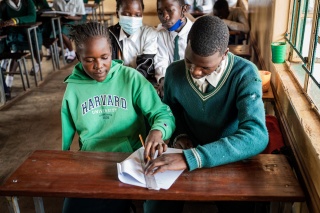 Staying motivated amid such poverty and the added heartache of teasing from classmates is tough. "It is difficult living with one hand," says Martha. "It's very hard for me because when I look at my friends who have both hands. Sometimes I start crying. But my mother encourages me.
"It is very important to me to receive porridge. When I'm full I feel better. And there are nutrients in the porridge that give me more energy for my education.
"Education is so important to me. When I am educated I will do things, I will provide for my family. It's easier to provide for your family when you have a good education."
The strength Martha shows in school is testimony to her mother's sacrifice. With Mary's Meals fuelling her studies Martha can continue to grow stronger for a more secure future for her own family.