Youth Ambassador Program

The time to act is now
The UN has stated a goal of 'Zero Hunger by 2030' (UN Sustainable Development Goals) – the truth is, right now, we are very far away from the realisation of this goal. 150 Million more people faced hunger in 2021 than in the previous year and 8% of the world's population is projected to still face hunger by 2030 (UN 2021). The situation is desperate and the time to act is now.
At Mary's Meals, we believe that young people are innovators, culture shapers and agents of change who will find solutions to the global issues of hunger, poverty and injustice. We believe that you can be the generation which brings us closer to the realisation of 'Zero Hunger by 2030' and a different future to the world we are living in.
Are you aged between 16-25 and have a passion to end world hunger?
Join a global movement of Youth Ambassadors across 20+ countries where Mary's Meals has a presence

Grow our movement in your local community by raising awareness and fundraising in your school, university, workplace or as part of a national group

Be part of a global community, connect with other young people across the world and gain leadership development opportunities which will support you in your role and your future career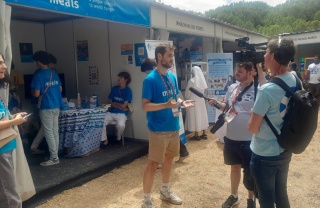 Mary's Meals Youth Ambassadors in Medjugorje and Lisbon
Engagement Manager, Calum MacFarlane-Barrow, reflects on a busy period for our Youth Ambassador Programme. From the annual Youth Festival in Medjugorje, to the recent World Youth Day event in Lisbon, Youth Ambassadors from Mary's Meals have been on the move, sharing their enthusiasm for the work of Mary's Meals.
Read more

about Mary's Meals Youth Ambassadors in Medjugorje and Lisbon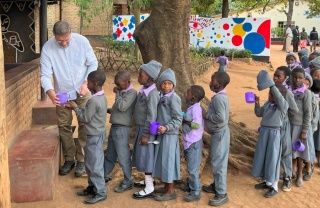 Zero Hunger: how it happened
One day, I hope not too long from now, a child will read in a history book about famines of the past and the fact that millions of people used to die of hunger year after year, in a world of plenty. Read our founder, Magnus MacFarlane Barrow's latest article, where he discusses a future free from child hunger and poverty.
Read more

about Zero Hunger: how it happened
"Finding and supporting a good cause is the thing you must get right. If you want to do something good, think of an idea and look for the right organisation and the right people for it. Organise something that is fun and you feel comfortable undertaking. Then you can use your drive to do good things and have a positive impact on others"
Denis Holub, 16, Germany, Youth Ambassador