Making moves for Mary's Meals
The Mary's Meals global family is not one for sitting still.
Published on
Whatever the occasion, our faithful supporters never cease to amaze us, defying all the odds to spread the word of our vision and fundraise to ensure over 2 million children and counting – who would otherwise go hungry – are served a daily meal at school.
This summer was no exception. From the southern tip of Germany to the north-east coast of Spain, Mary's Meals supporters put their fitness levels to the test, taking advantage of the warm summer weather and embracing their beautiful surroundings to get active in aid of Mary's Meals' Move for Meals campaign.
In Austria, distance was no object for Mary's Meals supporter, Erwin Strobl. He travelled more than 500km in eight days and raised enough funds to provide 100 children with Mary's Meals for a year. Now, this was no ordinary trip for Erwin. In 2016, he was involved in a serious accident and now uses a wheelchair, so he completed the remarkable journey on his tricycle with wheelchair attached.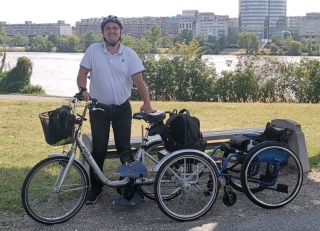 Avid walker and explorer, Michelle Restivo, from Canada, was one of only 1,000 people selected to take part in the daunting challenge of walking 83.4 km in less than 24 hours. Michelle wanted her walk to have a purpose, and so she dedicated it, and the donations she received, to Mary's Meals.
She says she did the walk "in solidarity with the children who need it the most." Michelle set off on the afternoon of Saturday 18 September, on the Matagalls mountain in Catalonia, Spain, and walked throughout the night, towards the peak of Montserrat (a famous Monastery located in Barcelona). She raised $3,611.44 for Mary's Meals.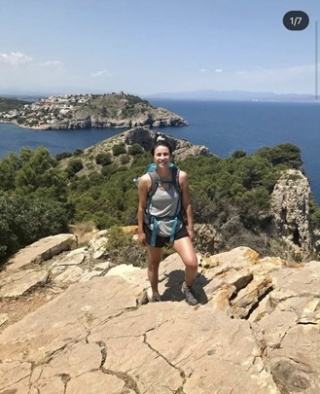 In September, the rolling countryside of southern Germany was alive with the sound of Mary's Meals supporters completing a 50km challenge. Around 80 keep-fit enthusiasts descended on Lake Starnberger, near Munich, to accomplish a tour of the lake. During the rally, participants stopped off at the Buchheim Museum, the Buchscharner Seewirt beer garden and the King Ludwig II Votive Chapel in Berg to complete questionnaires and tasks.
The final leg of the rally saw the group return to Lake Starnberger where they enjoyed a buffet with cakes and drinks in the garden of one of the volunteers. Various modes of transport were used throughout the event, including bikes, boats and cars – some participants even made the journey on foot. Thanks to the supreme efforts of the group and supporters, funds to feed 247 children every school day for one year were raised through donations and entry fees.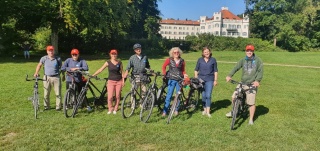 Are you feeling inspired to kickstart your year 2022 and raise funds for Mary's Meals? Find out all you need to know about our Move for Meals campaign here: Move for Meals