Mary's Meals begins feeding in Niger
We have been working towards this for some time.
Published on
With your help, we've fulfilled our plans to feed children – some as young as 13 – at prisons in Niger.
We have been working towards this with our trusted partner Grandir Dignement for some time, and we're delighted to say that despite the challenging circumstances brought about in recent weeks, the programme has now begun. Together, we are providing daily meals for child prisoners at three remand centres in Niger's largest cities, Niamey, Maradi and Zinder.
The nutritious food is a lifeline for extremely vulnerable children who are living in very challenging circumstances. Many are still awaiting trial and have yet to be found guilty of any crime.
Speaking of our newest feeding programme, our founder, Magnus MacFarlane-Barrow, said: "In these uncertain times, being able to share news of such a positive, new opportunity brings hope and comfort, and is a reminder to us all of the goodness of people and what we can achieve together.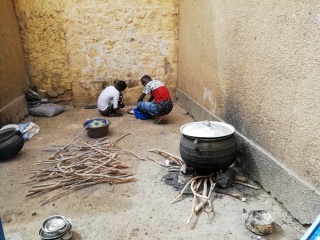 "We are so grateful for the kindness and generosity of our supporters around the world, which has allowed us to reach out with love to these extremely vulnerable children. We strongly believe that every child should have enough food to eat and the chance to gain an education, both of which are so desperately needed by these young people in Niger.
"Most are being imprisoned while they await trial for minor offences, like the theft of food or small items, which they hope to sell so they can make a little money to survive. Many either dropped out of school early, or have never set foot inside a classroom, so the meal we provide is helping them to engage with the literacy classes and vocational training they receive while they are being held – and feeding their hopes for a brighter future. Thank you for all you do."
Boubacar Badjé, provides education to the children at Niamey prison, he said: "The support put in place, thanks to Mary's Meals, guarantees food five days a week, food which is better quality and in greater quantity than what we could offer to the children before.
"I have seen how reassured the parents of the children in the remand centres are by this - knowing that their children have access to full meals removes additional worries for them.
"The children are delighted. They are happy that they are no longer hungry, that they are no longer worried about how they will get meals during their period of detention. They all welcome the implementation of this food support.  There will now be very few malnourished children thanks to this support."
Niger is the latest country to join the Mary's Meals family and become part of our global feeding programme. We first began working with Grandir Dignement in Madagascar in 2019, where together we reach children with daily meals across four prisons.   
Thank you for helping us feed the hopes and ambitions of some of Niger's most vulnerable children.