School feeding begins in Yemen
Our newest programme country is one which is in the most urgent need as it faces long-term, and devastating conflict and increasingly difficult conditions.
Published on
Although there are many places in the world today experiencing enormous challenges Unicef refers to Yemen as "the largest humanitarian crisis in the world."
Of the estimated 21 million people in need of humanitarian assistance, more than 11 million of them are children.
The incredible work of Yemen Aid came to Mary's Meals' attention and we got in touch to discuss the potential impact our school feeding programme might have in some of the areas they work. This international NGO provides thousands of food baskets to displaced people and communities and supports thousands of malnourished children. They also provide support and advice with hygiene, health and welfare issues. Additionally, they run a number of women's programmes — supporting female farmers, supplying resources to female businesses, and offering skills enhancement and psychosocial support.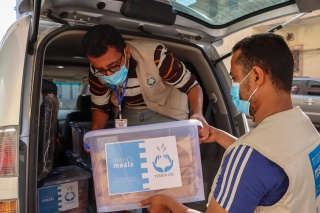 Now, in partnership with Yemen Aid, Mary's Meals provides four schools in the Al Mansoora district of Aden with meals for more than 4,000 children. This district is particularly vulnerable as it is home to a large number of internally displaced people (IDPs) and other marginalised populations who all experience high levels of hunger.
Summer Nasser, CEO of Yemen Aid says:
"As we embark on this new relationship with Mary's Meals, our hope is to increase support to children by tackling hunger through strategic, sustainable approaches in the education sector. The school feeding programme will broaden the horizon for these students who have been losing interest in school and provide more security for parents."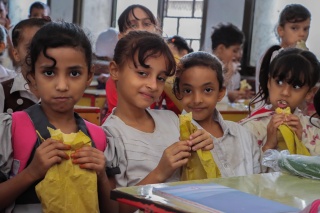 Building on Yemen Aid's existing relationships with these communities and their leaders, Mary's Meals has successfully implemented a daily meal of a filled pitta bread sandwich with fruit and or vegetables for every enrolled child.
In Yemen, poverty and conflict often keep children out of education and coercion into child labour can become a real threat. The serving of a nutritious lunch encourages children back into the security of the classroom. 
We spoke with one of the volunteers for the school feeding programme in Aden, Mouth Banafaa, about what motivates him to lend his time and efforts. He says:
"I love volunteering in humanitarian work because this supports the community. This project is important to me because it helps children from vulnerable families to have access to education and improve their learning opportunities."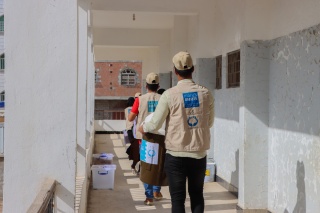 After reaching the landmark of feeding 2 million children in September 2021, the addition of Yemen strengthens our movement as we push onwards, resolute in our goal to reach the next hungry child.