Superstar Teen Raises Thousands for Hungry Children
Denis Holub pushed his physical and mental endurance to the limit this summer to raise vital funds for Mary's Meals.
Published on
Run 1,124 kilometres in 16 days – that was the challenge 16-year-old Denis Holub from Germany set himself this summer to bring hope to hungry children living in Malawi.
Inspired by Mary's Meals Germany's Move for Meals campaign, the teenage sprinter turned his attention to long-distance running to complete the mammoth task – a feat that required more than a year and a half of planning and training.
Denis set off at the end of July from the city of Freiburg in southwestern Germany and reached his final destination in Hamburg just over a fortnight later, covering roughly 70km per day (or 1.7 marathons) with no breaks in between.
Throughout the 16-day challenge, members of his family supported him as he took on the immense distance and they were never short of somewhere to stay. Every step of the way he was greeted by Mary's Meals supporters, some of whom offered them their homes to rest. Denis was also invited to stay at the grand Bückeburg Palace in Lower Saxony at the invitation of Prince Alexander zu Schaumburg-Lippe.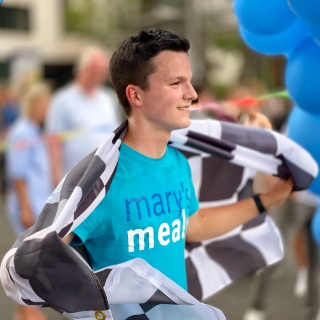 His outstanding efforts raised €49,270, which was then doubled to €98,540 thanks to the support of a generous, Frankfurt-based foundation. This significant amount of money will guarantee daily school meals for 942 children who attend a school in Malawi for five years.
Denis' outstanding achievement generated a flurry of media attention; he appeared on several German TV channels, radio stations and in newspapers. Celebrities who caught wind of the story also got in touch to wish him well such as Konstanze Klosterhalfen, the German Olympian runner, who commented on Denis' bravery and endurance live on German TV.
Denis caught up with journalist and Mary's Meals supporter Tanja Weithöner to talk about the highs and lows of his 16-day epic undertaking.
How are you doing now?
Denis: I'm fine. I recovered relatively quickly. It's only my knees that need a bit more time. It was agony climbing the stairs, especially during the last stage of the run. I'm being checked by the family doctor, a sports physician and an orthopaedic doctor to make sure that everything is in order and there are no problematic injuries.
How did you feel when you crossed the finishing line?
Denis: I was immediately overwhelmed by an insane amount of relief. It felt like a great weight had been lifted. There was a lot of pressure on me for a year and a half, always knowing that I had the challenge ahead of me. At the same time, I was incredibly grateful for all the support I received. I never expected my run to receive such a response!
What was your mum's reaction when she greeted you as you crossed the finishing line after so many days of running?
Denis: I think for my family it was even more exciting and emotional than for others; they had been hoping and praying all the time that I would finish safely. Some tears were shed. It wasn't easy fighting day after day and enduring so much, but it was wonderful that my family were there to greet me. Unfortunately, my dogs had to stay at home and they missed me very much. They gave me a nice welcome when I got back home!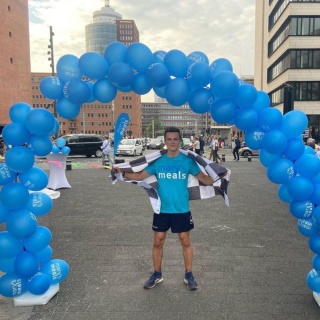 What did you think about during the challenge?
Denis: There were isolated thoughts that came into my head that I usually would have ignored. You think about a lot of different things when you're on your own and away from everyday life. I thought about the good times I had recently with friends or my girlfriend – that motivated me a lot.
How did it feel when strangers approached you as you were running?
Denis: People didn't approach me when I was running, but they did reach out to me on social media. A couple of people messaged me saying 'I live near Offenburg and would like to join you on some of your route' but I didn't have time to get in touch with them. I was exhausted when I got home at night and couldn't do much. Lots of people contacted me before the run started asking about Mary's Meals and several ultra- runners also got in touch because they wanted to accompany me on different stages of the run. Manfred Sandmann, for example, I know him from Super Talent and Ninja Warrior and he is really nice! It was so much fun meeting people and getting to know different personalities. It's shaped me as a person.
Did you ever reach a point when you thought you'd have to stop running?
Denis: Not really. I still had a plan B [if the running was too difficult, Denis would switch to a bike], which was also good because I knew that somehow I would manage to cross the finishing line. But it was really hard going because the searing heat was constant and there were a few times I thought I was going to faint. At those moments I was on the verge of a nervous breakdown; I had a lot of respect for all the challenges the weather and surrounding circumstances posed, but at the same time I kept to my routine with iron discipline – keep pouring cool water over my head, drink water, keep an eye on my energy reserves. Just grit your teeth and then you will succeed. Keep fighting and you'll see it through to the end. Struggle on and you'll get through it.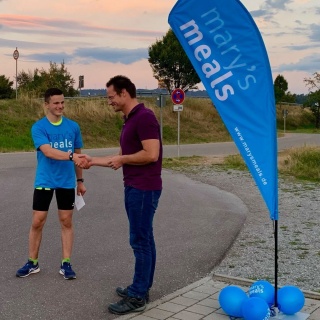 Would you like to take on a similar challenge in the future?
Denis: No, for the simple reason that I have done it once and I have amazing memories. It was a challenge I wanted to face once in my life. If I tried for a second time, that special feeling that I had the first time wouldn't be there.
Are you already thinking about your next charity fundraiser?
Denis: Absolutely, I want to continue to do good work and change the world in a positive way. That is my goal in life. From a sports point of view, I don't plan on keeping up long-distance running, but I want to go back to sprinting.
What advice would you give to other young people who want to get involved with a charity?
Denis: Finding and supporting a good cause is the thing you have to get right. If you want to do something good, think of an idea and look for the right organisation and the right people for it. Organise something that is fun and that you feel comfortable undertaking. Then you can use your drive to do good things and have a positive impact on others. The book Give: Charity and The Art of Living Generously by Mary's Meals founder Magnus MacFarlane-Barrow shares practical tips on how best to help.
What was it like being invited to Bückeberg Palace?
Denis: It was incredible and quite overwhelming! I noticed at each rest stage that Mary's Meals had found supporters to warmly welcome me and my family as if we were one big family. Bückeburg Palace was another of the big highlights. It was one of those experiences you won't forget in a hurry. The people I met there were all really nice and the event was mainly conducted in English as some members of the Dutch royal family were also there. We had dinner together – a barbecue on the terrace. We talked about a wide variety of things. It was an in-depth conversation in a lovely setting and the building and grounds were magnificent. I was very respectful – after all, it's not your everyday environment, so you have to behave accordingly. But I immediately felt comfortable there and I could just be myself.
What is your best memory from your experience?
Denis: When I was in Bonn, it started to rain briefly. It was near the end of my run, maybe 12km before the end of the stage. I had handed my bag over at the meeting point of my last food and rest break, so I only had my water bottle with me. As I knew the way (I only had to run straight as the route followed the River Rhein) I began running in a kind of tunnel vision and didn't even realise what was going on around me. It felt great and at that moment I was just running without thinking or feeling. The surroundings and the rain did me good. Those were the kind of moments I would describe as exceptional!
No matter how small or how large, your little acts of love can make a difference for the millions of children around the world who don't know when they will next eat. We're now feeding
2,429,182
children every school day.
But more than 67 million primary school-age children are out of school around the world. In order to survive, they have to work or beg. Even if they do make it into the classroom, hunger affects their ability to learn.