A Look Back at Our 20th Anniversary Year
Join us in reflecting on our key moments throughout this past year at Mary's Meals.
Published on
It's been a milestone year for the Mary's Meals family, marking 20 years of our work to provide nutritious meals for some of the world's poorest children in their place of education. It has also been a year of suffering and hardship for millions of people globally. Conflict, food shortages, climate change, Covid-19, rising costs and global hunger on an unprecedented scale has piled immense pressure on the communities we serve, meaning our life-changing meals are more needed than ever.
The dedication of Mary's Meals volunteers, supporters and partners over the past 12 months has enabled us to keep our promise to more than 2.2 million children enrolled in our school feeding programme and help to change the story for millions of children with nutritious meals every school day.
20 years of Mary's Meals
The impact of Mary's Meals in communities around the world over the last two decades has been significant. Over this time, in every community where we work, children have returned to the classroom, spurred on by the provision of a nutritious meal at school. Learners who receive our meals have more energy to learn and play and participate in class. As a result of these positive outcomes, there is a growing group we call 'generation hope' – young people who received our meals at school and are now equipped to build a brighter future for themselves and their communities.
This year, more children began receiving our meals in Madagascar, Zimbabwe, India, Haiti, South Sudan, Liberia, Malawi, Syria, Yemen and Kenya. In Zambia, the government's free education for all policy allowed us to welcome more than 40,000 new children to our programme.
In Turkana (a region in Kenya enduring its worst drought in 40 years), more than 150,000 children are now served a daily meal at school thanks to our recent expansion into the region's primary schools. Until recently, Mary's Meals were reaching pre-school children attending Early Childhood Development and Education centres (ECDEs), and now, primary school learners can also rely on the promise of a nutritious meal every school day.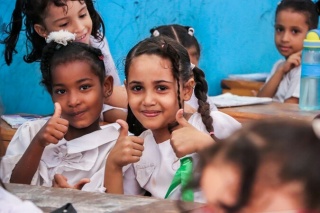 Growth and partnership
This year, we also welcomed two new programme partners – specialist organisations whose knowledge and expertise help to bring our meals to children in some of the most challenging or hard-to-reach areas.
In Zimbabwe, we've begun working with an established, local development organisation ORAP (The Organisation of Rural Associations for Progress). Together, we're serving 6,000 daily meals in 15 schools in Umguza District to children who are struggling to get enough food to eat.
In Madagascar, a new partnership with Money for Madagascar is enabling us to increase our commitment to vulnerable children living in some of the country's poorest areas. Through this partnership, we are reaching children in 31 new schools and six information education centres, many of whom are in desperate need of reliable nutritional support.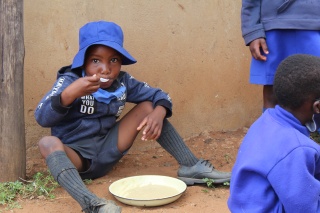 Unprecedented hunger on a global scale
Of course, the past year has not been without its challenges as children across the world suffer the devastating effects of a global food crisis. Since 2019, the number of people in the world facing acute food insecurity has soared from 135 million to 345 million. We launched our Global Hunger Crisis Appeal in the summer, sharing first-hand accounts of the food insecurity facing communities where our meals are served. Our simple solution to hunger and the impact of our work in some of the world's poorest communities was featured across newspapers, radio stations and online channels around the world to raise awareness of the perilous situation many children and families are finding themselves in.
As food insecurity continues to engulf communities across the world, learning more about the impact of our meals in different contexts remains an important aspect of our work. Earlier in the year, our research highlighted the profound impact of school feeding in early childhood education in Kenya and Zambia and found that our meals relieve hunger and boost happiness for pre-school children, while reinforcing the value of education among communities.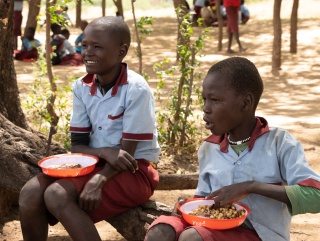 Little acts of love
Mary's Meals supporters of all ages and backgrounds set the bar high for another year running as they unleashed their creativity and pushed their endurance to the limits to raise vital funds for our work. In Germany, 16-year-old Denis ran 1,124 kilometres in 16 days, raising €49,270 to support children in Malawi. (His fundraising amount was then doubled to €98,540 thanks to the support of a generous, Frankfurt-based foundation.) Great-grandmother Ellison Hudson from Scotland took on her second cycling challenge for Mary's Meals this year, pedalling 84 miles to mark her 84th birthday.
In Canada, Mary's Meals supporters Paul and Ali celebrated their wedding in July and raised more than $6,000 (CAD) by asking their guests to donate to Mary's Meals instead of giving them gifts. Our supporters (school communities, churches, friends, families, work colleagues and local businesses) put their best foot forward to spread the word about our mission and raise funds to ensure we can keep changing the story for the world's poorest children with nutritious school meals.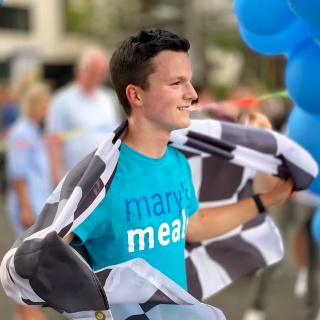 Reaching the next child
Ensuring that we are able to provide meals for the children already enrolled in our school feeding programme is our first priority. We continue to strive to reach the next hungry child waiting for Mary's Meals, as funds allow. The cost-of-living crisis, inflation and rises in fuel costs are greatly impacting our work – since the start of this year, we have seen the cost of feeding across our global programme rise by 20%. As we look forward to the new year, your help is needed more than ever to keep generation hope growing and flourishing in the coming months and years.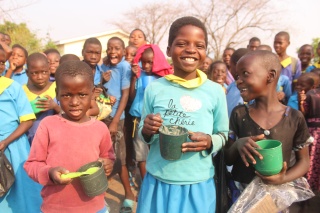 Find out how you can kickstart the new year with a focus on supporting the children we serve. We're now serving
2,429,182
children every school day.
But 67 million primary school-age children are out of school around the world. Even for those attending school, hunger is one of the biggest barriers to concentration and learning.