Collaborating amid chaos: A first-hand account from Aleppo
Our colleague in Syria, Elias, shares his experience of the earthquakes that struck his home in Aleppo earlier this month and explains his involvement in the emergency response.
Published on
"All that I can remember that night is the sound of buildings collapsing, many with residents – women, men and children – under the rubble, and the sound of my mother and sisters screaming and calling on God for help. We have never felt this terror in the whole 12 years of war. I saw my entire life flash in front of me while the building was shaking, and I felt so helpless.
"We immediately went outside; the ground was shaking, and there were cracks in the ceilings of every house. We were so scared we left the house and spent the night in -4C (24.8F), the children frozen with the cold.
"In the hours that followed, other buildings, weakened by recurrent tremors and aftershocks, crumbled to the ground. Critical water, health, and civil infrastructures were also destroyed. It was one of the most powerful earthquakes to hit the region in 80 years.
"Children and families are in desperate need of more support. Our work is essential for the affected population and the needs are immense. We are addressing the basics by providing food thanks to our supportive partner Mary's Meals who immediately responded by switching the school feeding into emergency shelter feeding.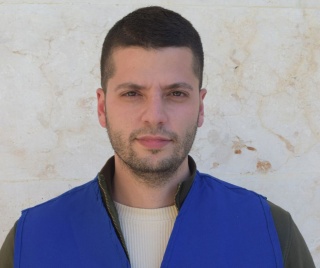 "Alongside providing food, Dorcas is also working to provide the affected children with critical psychosocial and mental health support. Dorcas is already working with children who have been impacted by the 12 years of war. Now another trauma has been revealed on top of everything else, which makes it essential for us to support those children.
"We noticed, 10 days after the earthquake, that children were sleeping on the streets, in schools and mosques and on buses, spending their daily time in open areas for fear of going home. Dorcas' rapid needs assessment findings grew daily with the number of children suffering from hypothermia and respiratory infections.
"To date, 693 schools have been reported damaged (263 in Aleppo, 125 in Latakia, 127 in Tartous, 109 in Hama, 63 in Homs, four in Idleb, two in Ar-Raqqa, Dibbs Afnan sub-district). Reports from the Ministry of Education (MoE) are indicating a higher number of damaged schools (1,219) in the worst affected council areas and neighbouring ones.
"In Aleppo, local authorities have confirmed the total number of collapsed buildings because of the earthquake as 56. As of 16 February, Aleppo had a total of 234 collective shelters that were reportedly accommodating more than 179,000 individuals."
Current challenges and gaps in the response:
Lack of yeast in many areas, including Aleppo.

Insufficient distribution support for citrus fruit producers in Latakia, where rural livelihoods have been affected.

Lack of access to energy in collective shelters (mainly lighting and fuel for heating).

Severe damage to water and sewage networks in collective shelters.

Lack of recovery machinery/excavators, and fuel for the humanitarian response.

Absence of essential supplies in the market like diapers for the elderly, milk for infants, blankets, mattresses, hygiene kits, and food.
"Community shelters and local schools have opened their doors to displaced families, pushing tables and chairs against the walls to make room for them to sleep on the floor. The rooms are cold, only a few people have blankets or mattresses.
"We – the volunteers for Mary's Meals – first made sure that all of our staff were safe. Thankfully they were, but it was noted some of the team's houses had been severely damaged. Although they had left their houses and were sheltering in churches, they were already asking about how they could help others who had been displaced in shelters and churches. In fact, most of them had started helping with food preparation while their families were still in need of help.
"One of the project volunteers said: 'It's our duty and mission to serve others, no matter our circumstances – by uniting we can overcome this crisis. My house was partially damaged and my children are in the shelter, but deep inside, we seek to help each other. I want to participate in feeding my children and all the other children who might be hungry as we speak.
"Every day that passes, more people need more support.
"Ultimately, every child under the age of 12 has known nothing but conflict, violence, or displacement. Some children have been affected by war injuries, Covid-19, the cholera outbreak, and now earthquakes, not to mention their psychosocial and mental health conditions."
"Following the devastating earthquakes in Syria, Dorcas continues to work around the clock to provide relief to the people most affected by the crisis with support from Mary's Meals. Now is the time for all NGOs to find every way possible to get aid to those who can administer it to all affected areas of Syria."
Please give what you can to our Crisis in Syria appeal. We're now serving
2,429,182
children every school day.
But 67 million primary school-age children are out of school around the world. Even for those attending school, hunger is one of the biggest barriers to concentration and learning.