A family's battle against the elements
One mother's passionate will to change her family's fate is constantly thwarted by their impossible circumstances
Published on
Floods. Drought. Fighting. Hunger.
This challenging cycle is constant and exhausting for parents in South Sudan.
Nyanut is mother to five children, and she wants the world to know that the circumstances they find themselves in are not because of a lack of persistence or a desire for change.
She says: "I am working hard to bring up my children. Many times we work, but everything is destroyed because of flooding or drought or fighting. Last year, all the harvest was destroyed by flooding, and our house was also destroyed. Many times, we go hungry."
Mary's Meals' partner in Wau, Mary Help Association, supports people who have been forced to restart their lives after losing everything to heavy rains or fighting. As well as serving Mary's Meals to children in their makeshift schools, the team has been providing seeds for planting and training on how to encourage growth.
Nyanut is thankful for the support, but life isn't getting any easier for her: "The training was very good, but when we planted the seeds, there was not enough rain, and all our plants died.
Then, last year, they gave us food and seeds again, but this time too much rain spoiled everything. "Now we do not know what to do. We do not know how the coming days will be."
Sadly, she is not alone. Years of conflict, economic crises, reduced crop production and a reliance on imports have driven food insecurity in the country to breaking point. Today, more than half of South Sudan's population does not have enough food to eat. Some face the most severe levels of acute food insecurity and hunger.
It is also estimated that more than two-thirds of the country's population (8.9 million) will require substantial humanitarian support and protection in 2022. Necessary levels of support, however, are not guaranteed, as a lack of funding is forcing many organisations to withdraw services and aid from the country, a move which will have devastating consequences for the people of South Sudan.
Mary's Meals is one of only a handful organisations providing reliable and consistent support to parents like Nyanut, whose older children receive a guaranteed plate of food every day in school.
The treacherous journey for the maize and beans supplies to reach our schools is far from easy, but our partners, Mary Help Association and Diocese of Rumbek, go above and beyond, using their skills and know-how to ensure the 75,969 children enrolled in our programme receive their plate each day.
Please support the world's most vulnerable children by donating to Mary's Meals. Surrounded by the devastating effects of climatic events and ongoing unrest, the promise of a daily meal at school can save lives and generate lasting change in environments where families struggle to improve their own fortunes.
The time to act is now.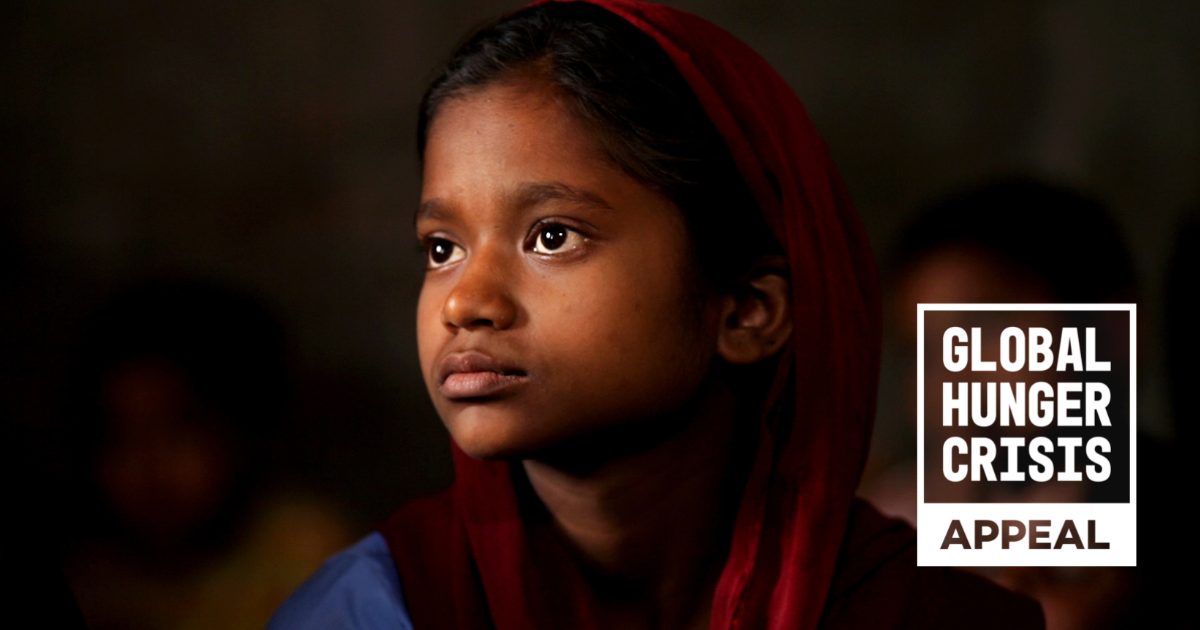 Global Hunger Crisis Appeal
Help us reach the next child waiting.