A mixed Blessing
Blessing, a regular teenager in Zambia, is a real-time example of the extraordinary difference Mary's Meal's porridge has on a growing child
Published on
13-year-old Blessing from Zambia has had a mixed childhood- yoyoing in and out of school, with her health mirroring each enrolment and departure.
"When Blessing started at primary school, she received porridge. Her health improved," said her mother, Zondiwa.
"Then she left school and went to live with her grandmother. She stopped receiving the meals and her health worsened again. Her body became weak.
The moment she started receiving the porridge again, her health improved.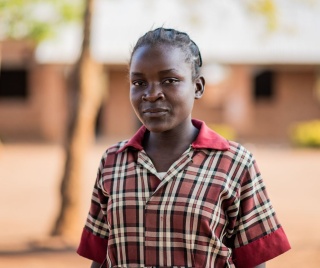 No one knows a child better than their parents. Blessing and her mum have seen the real day-to-day benefits Mary's Meals is bringing to their family.
"I like porridge because it gives me energy," says Blessing. "We have limited food at home. It's difficult to concentrate in class when I haven't eaten anything."
Now, attending school regularly and receiving her daily porridge from Mary's Meals, Blessing's future is clearer and her mum is keen that she fulfils her potential: "My hope is for Blessing to complete her education so she can help herself in the future."