Mary's Meals is growing in Benin
Every child is someone
Published on
For more than half of all children living in the West African Republic of Benin, the joy and wonder of primary education is prematurely cut short.
Most young people fail to complete their primary school years due to financial hardship. In families where there isn't enough food for everyone, survival is prioritised over learning with many children spending their days searching for something to eat.
Around one in three young children suffer from chronic malnutrition and basic literacy is beyond the reach of the vast majority.
At Akpadonou primary school, in the southern region of Benin, the introduction of the Mary's Meals school feeding programme means these fortunes are changing.
The guarantee of a nutritious meal for each of the 642 students every school day, is an incentive to attend class and reassurance that they will be able to learn more effectively without being troubled by hunger.
As our trusted local partners, the Soeurs de Marie de la Médaille Miraculeuse, arrived with food to cook for the entire school, the students celebrated enthusiastically along with their parents.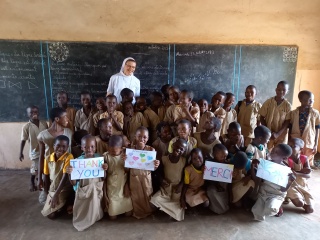 Young Samuel Ahikpo, in class 5 tells us the joy Mary's Meals has brought to their small community: "When we see the Sisters coming, everyone in the class runs out to see what they brought this time. Is it rice or corn for porridge or something else?
"This time they brought eggs. It made us all very happy. Imagine, each child was given one egg with rice.
I don't know yet what I will be when I grow up, but with the canteen, I will be strong. And when I grow up, I will be someone, not no one.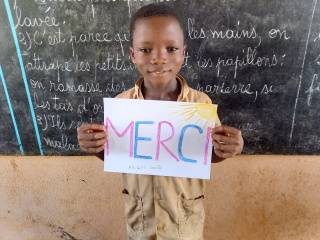 The entire country of Benin is vulnerable to food insecurity, as they suffer the effects of repeated floods and droughts. Many families rely on agriculture for a living, but poor-quality soil and antiquated farming technology means making even a meagre living is challenging.
Mary's Meals has been providing food through our partners in Benin since 2011. Together with the Sisters, our programme delivers to children in four other schools, in areas of the country that are particularly affected by food shortages and hunger.
This small programme in some of the poorest communities in Benin is having a big impact on children like Samuel. Today, and every day, Samuel and his friends will now be nourished and continue to grow and learn, hopefully recapturing some of the joy and wonder of education and childhood.