Stop Child Hunger
Conflict and displacement in South Sudan
Published on
Every morning, 11-year-old Thomas sets off to go to school in a makeshift building in Wau, South Sudan. As he walks, he picks up friends along the way. Thomas' father died trying to defend their family in the conflict. He and his mother fled. Thomas says: "They were coming to kill us. We ran to the bush to hide, and my father remained behind to fight against the soldiers. We ran from one place to another, chased by soldiers again and again." Seven years after losing his father, Thomas is doing amazingly well despite his circumstances. Excited by school and cheerful with his friends, he mentions how happy he is when playing football with them. 
Thomas is just one of the faces behind the statistics in East Africa. This is a region marred by the longstanding consequences of conflict and displacement, where more and more people are slipping deeper into poverty and hunger.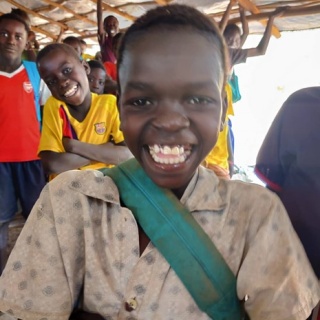 What are some of the key drivers of food insecurity and poverty in South Sudan?
South Sudan is no stranger to instability and more than a decade after gaining independence from Sudan in 2011, chronic food insecurity continues to engulf the world's newest nation. Poverty is exacerbated by ongoing displacement, extreme weather, inflation, and conflict and when neighbouring Sudan descended into war earlier this year, the fighting precipitated a staggering humanitarian crisis*. The war has displaced more than 5.2 million people** with more than a million flooding into neighbouring countries in East Africa. Conflict has driven widespread displacement in the region for over a decade but rarely have so many lives hung in the balance in what has become the largest refugee crisis in Africa***. The vast majority – over 83% – of those fleeing are women and children. Often, they are survivors of violent attacks and sexual assault, and many are children who have been separated from their families. The needs of displaced people are many, but hunger is a core issue that threatens any opportunity for development. 
A staggering 76% of the population of South Sudan (more than 9.4 million people) are estimated to be in need of humanitarian assistance****. The arrival of displaced individuals exerts immense pressure on countries and communities, necessitating support not only for the displaced but also for their hosts. Migration happens for myriad reasons. Displacement, however, results from violence, human rights abuses, or natural disasters – extreme events that force people to flee their homes. It's estimated that there are 2.3 million internally displaced people in South Sudan and more than half of all South Sudanese refugees are children.***** This is a generation whose access to education hangs in the balance, threatened by conflict, displacement and resulting child hunger.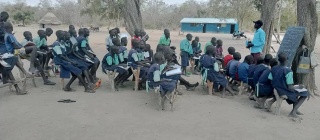 Mary's Meals and Local Partners in South Sudan
Children are bearing the brunt of the immense suffering: in South Sudan, 31.3% of children under five suffer from chronic malnutrition.****** In a context this challenging, the provision of meals in a place of education is an important building block for long-term change. And our community run school feeding programme is giving people a chance to take action against hunger while contributing to an initiative that offers some hope and stability in the face of conflict and chaos. 
Samuel Amaai is a Field Education Officer working for the Diocese of Rumbek, one of our partners in South Sudan. On the future of South Sudan, he says: "Education cannot come first when there is no food. There are families in our schools whose children would regularly go on empty stomachs for two to three days. "I spoke to one girl who told me: 'Without Mary's Meals' programme in the school, I would have not come to this school. It is the only meal that I get. Then I go back home, I sleep and the next day it is the same meal that I will only get.' I asked further and heard the background of this child, this is a child whose father was killed in the previous conflict and whose mother is blind. These are the challenges we face but, at the same time, our greatest achievement is that we can provide for these people."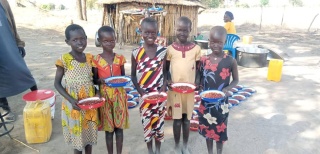 Behind the big numbers and statistics are people: the unpaid teacher still turning up to instruct their class, the crossed-legged schoolchildren using the shade of a tree in place of a classroom, and the parents turning up – despite their own troubled situations – to give their time to cook, so the children can rely on the reassuring smell of Mary's Meals being prepared. 
At just 11 years old, Thomas has a simple goal for his future: "I am happy to be in school. I hope one day I will get a good job. I'd like to take care of my mother. She is working too much to care for us." Thomas seems determined to take an active role in creating a better future. If we all play our part, we can help to make that better future a reality.
*UNHCR, 2023
**UNHCR, 2023
***UNHCR, 2023
****OCHA
*****UNHCR
******The Global Nutrition Report
Child hunger is a crisis we can solve together. 
Help to make a meaningful impact, one meal at a time.