Van life and raising funds in Poland
YouTubers Kasia and Łukasz turn their wheels for Mary's Meals
Published on
Kasia and Łukasz, popular Polish Youtubers and avid Mary's Meals supporters, shot to fame following their decision to leave their corporate jobs to live in their campervan full time and travel around Europe, vlogging their experiences and travels. Over the past three years, they've travelled to 35 countries and amassed 120,000 YouTube followers along the way to watch their adventures and read their blogs on such subjects as 'how to take care of your health while living in a van' and 'van life in an epidemic.'
During the last few months, the adventurous couple launched their online store stocked with cool merch like books, gadgets, cups, and supporting Mary's Meals with their sales. For instance, with every eco camping cup purchased, they allocate 1 zloty to Mary's Meals. So far, they've sold over 2,000 mugs, which will go a long way to helping to feed children and attract more supporters to the movement.
What's more, they invited their impressive social media following to watch them cook and eat porridge on World Porridge Day in their van to mark the occasion. Porridge is one of the staples served to children in many of the countries we run school feeding programmes, and this was the perfect way to highlight the work of Mary's Meals along with some tips on how to prepare the perfect porridge while on the road. During the broadcast, the couple cooked up porridge dishes and discussed the work of Mary's Meals, emphasising the difference a cup of porridge can make to a child living in poverty.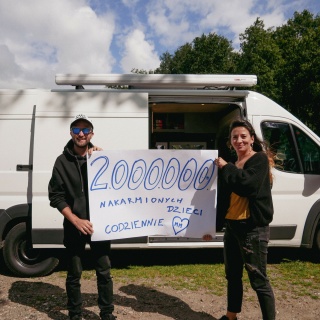 Kasia and Łukasz first discovered Mary's Meals in Medjugorje at the annual youth festival. It was there they heard from a boy who was a recipient of one of our school feeding programmes.
Kasia says: "What captivates us the most in this organisation is that the help is provided to children all over the world in the poorest regions where help is especially needed and where the situations of the people aren't highly publicised. What I like is the way Mary's Meals helps. It's not only meals -giving a proverbial fish- but also giving the fishing rod. Because these meals are served to kids in schools where they can gain education and in the future be able to work and earn money or educate and help other kids change their lives."
Łukasz says: "It is an extremely noble goal. It is a goal that is more important than anything else. We would like everyone to support Mary's Meals. We want as many children as possible to receive food and education so they can get out of poverty."