World Food Day
This World Food Day, we celebrate food changing the story for more than 2.2 million children enrolled in our school feeding programme.
Published on
Meals from across the world
Every school day, 2,279,941 vulnerable children living in 20 countries make the journey to class – some travelling a short distance, others walking for miles – where they receive a nutritious meal served by Mary's Meals volunteers.  
The food they receive is locally sourced wherever possible and made with ingredients that are readily available, of good quality and easy to store. Not all children receive the same meal. In India, learners tuck into a vegetable curry or lentil dhal with rice. In Lebanon, a sandwich wrap with different fresh fruit or vegetables is on the menu. In Malawi, Zambia and Zimbabwe, steaming mugs of vitamin-enriched porridge keep learners energised and focused during lessons. The flavours and tastes of our meals are carefully chosen in each country setting to ensure the children recognise and enjoy what they're eating.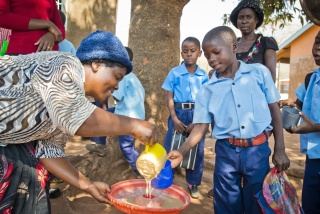 School communities where our meals are served are thriving, and the benefits are being felt among children and households alike. In Kenya, many of the informal schools that had closed prior to the launch of our feeding programme in 2005 have once again opened their doors and are feeding children, hundreds of new teachers are being employed and more and more children are coming to school instead of staying at home to herd animals or be prepared for early marriages.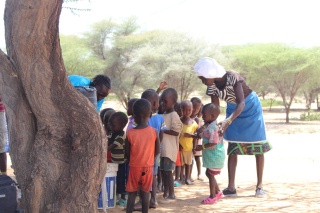 In Madagascar, where our programme is delivered by our trusted partners Feedback Madagascar and Money for Madagascar, enrolment is increasing, teachers are reporting consistent attendance since the arrival of school feeding and communities are uniting to build classrooms where schools are overcrowded. In South Sudan, children whose childhoods and futures have been marred by decades of violence are making friends and sharing meals with other learners from warring factions – a lifetime of conflict dismissed over plates of grain and beans.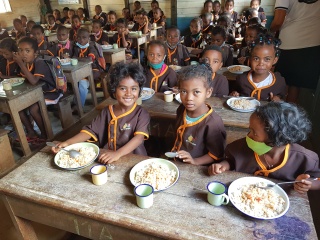 Momo's story
For the young people we reach, Mary's Meals is not only a daily lifeline but a chance for a brighter future. Children who would otherwise go hungry at home have the assurance that they will eat at least one meal each day if they make the journey to school – elevating their chances of learning and achieving. Momo from Liberia is one such child who is stepping out of the shadow of poverty and looking towards a surer future thanks to the promise of a daily meal at school.  
Momo rises at 5:00am to hand-stitch old, broken shoes which he sells to support his four siblings and wider family. He then cleans the house and prepares the household for the day ahead. Momo does all this with hope in his heart because once the chores are done, he can go to school.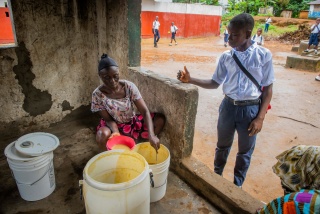 Momo's parents left the family home to look for work when he was much younger: "They needed to find work and they couldn't find jobs here," says Momo, now 17. "They moved away to work in another town making charcoal. They send money back to us but they're hardly able to get back to see us."  
In fact, Momo can hardly recall the last time he saw his own parents. "I'm not sure when I saw them last," he says. "Maybe it was a year ago."  
He and his brothers and sisters are being looked after by his aunt, who has 19 children and grandchildren of her own to feed.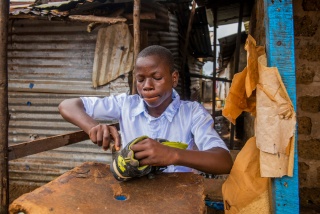 For now, Momo will continue to balance duty with learning to support his large extended family because in his words: "there are a lot of us to feed". However, with Mary's Meals now part of his daily routine, he can look towards a better future where his children won't have to choose between education and survival.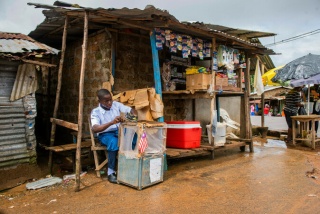 This year, World Food Day is set against the backdrop of an unprecedented global food crisis. Our school feeding programme supports and enables young people to learn skills that will help them secure a livelihood and a more stable lifestyle for their own families. Your little acts of love are helping young people like Momo to realise their hopes and dreams. Please donate if you can. We're now serving
2,429,182
children every school day.
But 67 million primary school-age children are out of school around the world. Even for those attending school, hunger is one of the biggest barriers to concentration and learning.