India
Mary's Meals serves 71,576 children every school day in India
Published on
Life in India
India is currently ranked 132 out of 191 countries and territories in the Human Development Index (HDI).  India is the second largest country by population and is home to some of the poorest and most marginalised people in the world.  Around 10% of India's population lives below the International Poverty Line ($2.15 per day).
Food insecurity in India is aggravated by high levels of inequality and social exclusion across the country. Malnutrition rates are exceptionally high, with a quarter of the world's undernourished people living in India. In the last 20 years, per capita income increased significantly and yet, the minimum dietary intake fell. The widening gap between rich and poor has intensified during this period and this makes India an important focus in the fight against world hunger.
The complex and deeply hierarchical caste structure in India means that members of scheduled castes (the lowest caste in Hindu orthodoxy) are often marginalised. While primary education is compulsory in India, children from scheduled castes and tribes often find it difficult to access government schools.
Around 13% of children do not complete primary school education and there are significant gender inequalities in education, with girls typically only benefitting from 5.37 years of schooling, versus 7.64 years for boys. However, both boys and girls struggle to get the education they need for many reasons. Across the country, there are 3,067,813 children out of school, and over 70% of these are boys.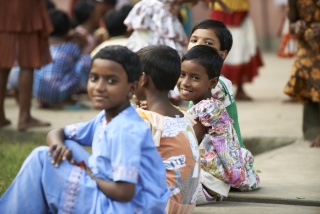 Mary's Meals in India
Mary's Meals has been serving school meals in India since 2004.
Our school feeding programme provides meals for some of the poorest and most marginalised children in India in their place of education.
We work closely with our partner, BREAD Noida, based in a suburb of Delhi, to reach children attending schools that serve impoverished communities across five states, predominantly in Northern India (Delhi, Uttar Pradesh, Bihar, Jharkhand and Chattisgarh).
The programme also includes non-formal education centres, most of which are located in low-income, urban slum communities in large cities such as Delhi, Noida and Patna. Many of the children we reach through non-formal education centres are orphaned, or abandoned lower caste children, and living in slums.
With the help of volunteers from the local communities, we serve school meals that provide an incentive to children – particularly girls – to attend school regularly, where they can find a safe place to learn and play.
When did we start working in India?

Mary's Meals has been serving school meals in India since 2004

How many children do we feed in India?

71,576 children in 165 places of education

What meal do we provide?

Vegetable curry or lentil dhal with rice

Where are we based/where do we operate?

We operate in five states across India, predominantly feeding children in Northern India and some urban slum communities in large cities across the country

What is the capital of India?

The capital city of India is New Delhi

What language(s) are spoken in India?

Hindi is the official language of India. However, more than 20 languages are commonly spoken in India

What currency is used in India?

The currency in India is the Indian Rupee (INR)

What is the population of India?

The population of India is 1,393,812,320